EARN A CLASS A CDL
Through Eagle's Employer Sponsored Training (EST) Program

---
Private training program provided by Eagle

Minimal Costs Required

9 Month employment pledge required

Must pass DOT physical and hair follicle test drug screening

Must pass Class A CDL permit test by in-house 3rd party tester - study materials available

4 week range training completed at the Tucson Terminal

Students are tested by a certified 3rd party examiner.
After CDL Training
Complete new driver orientation at the Tucson Terminal

Complete over the road mentorship

Promote to a qualified driver

Be assigned a Truck

Over the road and regional positions available

Flexible home time schedules
---
Eagle's Company Sponsored CDL Training Program
---
Your approval is subject to:
• Successful completion of employment application
• Further Background investigation
• Ability to pass a DOT physical and drug screen
• Must be at least 21 years old
---
Call our recruiting department for additional information And apply!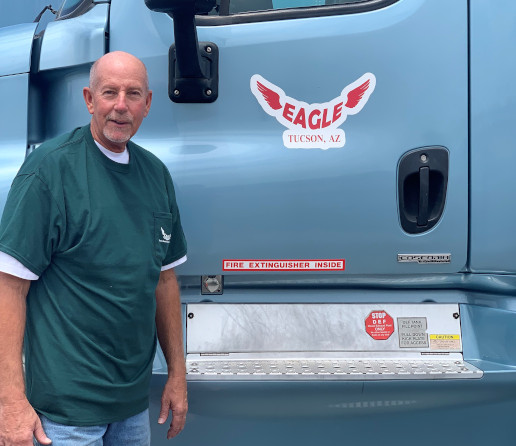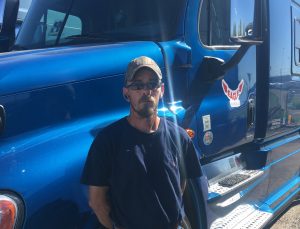 Testimonial
In my experience with Eagle KMC Trucking. I met Andree through the application process. Andree was very professional quick to return phone calls & emails. She was able to answer all my questions. I started my class with Tim who was a patient efficent and a pleasure to be around. My class was a fun and enjoyable learning experience in which I was able to obtain my CDL. I have been driving for Eagle since.

This company cares about their employees and treats everyone like family. With my first trainer I experienced some negative driving habits. But as soon as I asked for a new trainer I was assigned to Bobby who was a phenominal trainer. I was able to learn a lot from him.

Since I have been on my own and working with Amber for the last year it has been a pleasure. Amber is very attentive and makes sure when a mechanical issues arrive they are dealt with in a timely manner. As well as any other issues that may come up.

Working for Eagle is like having family 24-7 they have made my experience worth it to be away from home and have made it fun to drive for them. It is an experience I cant fully explain it is one I'd proudly say you need to experience for yourself. I am excited and privileged to work for Eagle KMC Trucking and am happy to be apart of the Eagle Team.

- Kevin B. -
By Joining the
Eagle Family
you can enjoy a truly driver friendly atmosphere, with steady miles, competitive pay, and low health care costs
!
Join The Eagle Family Today!