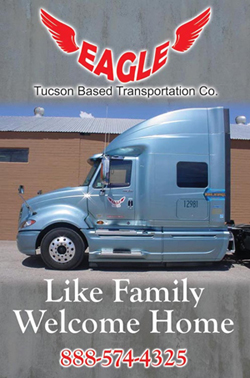 If you are an experienced truck driver looking for options to spend more time at home with your family, then you might consider Tucson regional truck driving jobs which allow you to work and still have time at home. Many drivers wish that their routes were a little shorter so that they could see their family more frequently, and these regional jobs give them that opportunity.
Regional Truck Driving Options
When you are looking at truck driving jobs in Tucson, AZ, then you might look a little harder to find out if regional opportunities are available. With regional truck driving, you are usually home within a week, allowing you a few days of work followed by a few days at home. These routes are often limited to several states in the local area, so you don't need to worry about the long, cross-country drives.
There are many types of Tucson truck driving jobs and it is important to find the right match for your needs. Here at Eagle Transportation, we are happy to help you find local truck driving jobs in Tucson, Arizona that you will enjoy.
Long Term Truck Driving Advantages
There are also advantages to some of the longer routes, and we have many drivers who enjoy this type of work as well. One of the biggest advantages to the longer routes is the fact that they provide you with the opportunity to see many parts of the country. You will spend time behind the wheel exploring many different states, and it will allow you to see different types of scenic beauty around the United States.
If you are ready for a new driving job, then let us help you to get started with truck driving jobs in Tucson. We are looking for new members to join our team, and we would love to talk to you. Here at Eagle Transportation you will enjoy personalized attention in our small company atmosphere while still enjoying the freight availability and benefits of a large company. We always have someone available to help you with any questions or concerns you might have and you, as the driver, are a top priority for us. For more than a decade, we have strived to meet, and even exceed, your expectations because we actually care about our drivers, you're family!