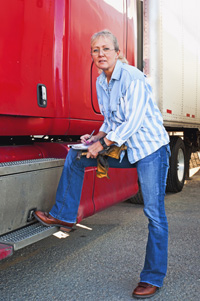 When you are looking for truck driving jobs in or around the Tucson, AZ area, it is important that you know what requirements meet your personal needs before you commit to the first trucking job that you can find. Different companies offer unique benefits, and you will also find that there are various routes and areas that are available depending on the type of company that you are working for.
Driving Jobs in Tucson
One of the first questions that you should ask about is the area where you will be driving because it can be advantageous to find truck driving jobs that are local because they will keep you close to home if you have children you want to stay close to home for, or simply don't want to drive long distances. If you have been on the road for an extended period of time, you know how tiring it can be to be traveling across many state lines in a short period of time and it's not for everyone.
Instead of these longer routes, you might consider local truck driving jobs that we offer here in Tucson. With these jobs, you have the home base of the Tucson area, and your routes will be short enough that you can be home more frequently. Our drivers enjoy these shifts because they are able to spend more time with their families, instead of being so far away all the time.
Tucson Trucking Companies
There are multiple trucking companies in this area but here at Eagle Transportation we strive to offer a better work experience for each of our truckers. You may see a job opening advertising for a truck driver needed, but remember that those jobs are not always created equal.
At Eagle Transportation, our goal is to provide you with the best truck driving jobs that are available. We are a smaller company, which allows us to get to know each of our employees. Instead of feeling like a number in the company, you will feel like family when you are working with us.