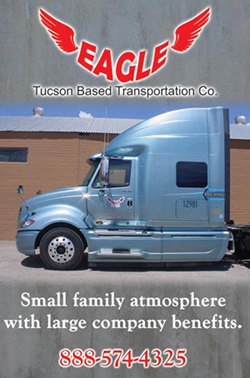 If you are searching for Phoenix truck driving jobs, there are several things that you might consider to help you get a job faster. There are many opportunities in the local area, which means that you should be able to quickly find a new job if you know where to look.
Contacting Local Companies
The first step that you should take is to reach out to local companies and ask if they have Phoenix regional truck driving jobs available. Here at Eagle Transportation, we are always happy to talk with people who are looking for local truck driving jobs in Phoenix, AZ. We have different opportunities available and will help you to find the best option to match your experience.
When you are discussing your options with us, make sure to mention your previous experience and any other qualifications that are applicable. This information helps us to match the job openings with your experience to help you find the position that is right for your needs. It is important to us to make sure that you will be working a job that you like because we work hard to ensure job satisfaction.
Personal Truck Driving Referrals
Another great option to find truck driving jobs in Phoenix, AZ is to talk with friends or family who are already working in the truck driving industry. For example, if you have a friend who is working with Eagle Transportation already, you might discuss the company with them in order to gain a better understanding about how the routes are set up and what you can expect when you start working.
We have jobs available and we would love to discuss those opportunities with you. We offer a hands-on approach to driver needs and because we're a small company, we actually know YOU! You're not just a number to us and our small company atmosphere comes with big company benefits. Contact us today and we can explain more about the Phoenix trucking jobs that you might be interested in.