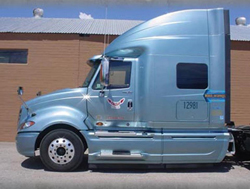 If you are new to truck driving and exploring your options, you will see that there are many companies that are currently hiring. But you need to know about the different driving options and how to find a good company to work with. Because of the unique skill set that is required to drive trucks, you will need to make sure that you have your CDL license in order to be qualified for these types of jobs. Once you have all of the necessary training, then you can start exploring careers in truck driving by talking with the different companies who are hiring truck drivers.
Over the Road Truck Driving Jobs
When you start learning about the truck driving career options that are available, you will likely see that most of the jobs for new drivers are over the road trucking jobs. These positions are a standard place for new truckers to start, and you can often find these over the road (OTR) companies hiring on a regular basis.
But some people don't want to drive the long distances that are required for OTR routes, so they start looking for the shorter, regional routes. Here at Eagle Transportation, our goal is to provide trucking jobs that are beneficial for both our clients and truckers. You will see that we have many regional options available for our truck drivers (and even local).
Asking the Right Questions
Before you make the decision about the company that you would like to work with, there are a few questions that you should be asking to make sure that it is the right fit for what you need. Start out by asking about the company and how their relationships with their other truckers are to give them an opportunity to tell you about themselves and get a feel for how they treat their employees. You should also ask about the pay scale, possibilities for pay increases in the future, as well as the routes that you will be driving. If needed, ask clarifying questions to see if you will be driving OTR routes or local routes, so that you can choose a company who will offer the type of route that you are looking for.
At Eagle Transportation, we treat our drivers like family. You're not just a number here; we actually care about you and your needs. If you need help finding a trucking job in Tucson, AZ or the surrounding areas, then we would love to talk with you! Contact us today and see why we're preferred by truck drivers!