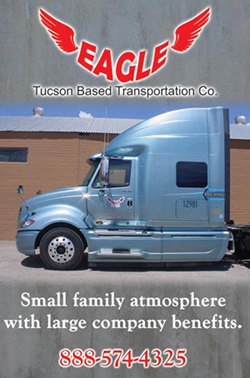 Eagle Transportation was incorporated in 2003. Eagle is a Tucson, Arizona based transportation company engaged in over the road trucking. In 2012 we added Truman Transportation, a sister company to Eagle based in Phoenix, Arizona. Eagle and Truman offer the professional driver the atmosphere of a small family company while still enjoying the equipment & freight availability of a top ten transportation firm with national recognition.
In addition to our over the road companies, we also introduced Tucson Tanker in 2008. Tucson Tanker performs fuel delivery in the local Tucson and Phoenix areas and offers drivers many of the same benefits as Eagle and Truman, especially the personalized and attentive service and available support staff.
As of 2014 we have reached 11 years of being a family of premier DRIVER companies and we always strive to meet or EXCEED our driver's expectations.
Please see our other pages for more about our company benefits and information on how to contact us!!
Don't forget to visit our Facebook page (and give us a 'like' while you are there!!!)